Comedian and outspoken Hollywood critic Roseanne Barr recently endorsed candidate for Florida's 21st Congressional District Laura Loomer, with plans to help fundraise for the conservative firebrand's campaign.
"Laura Loomer for Congress! I'm co-signing! I'm going to co-sign on that! I'm down for it. We need you, we need a conservative Jewish woman's voice in there with all those bigots."

Roseanne Barr
Barr and Loomer became fast friends after both Jewish women were deplatformed for their public opinions, which went against that of the mainstream media propaganda machine.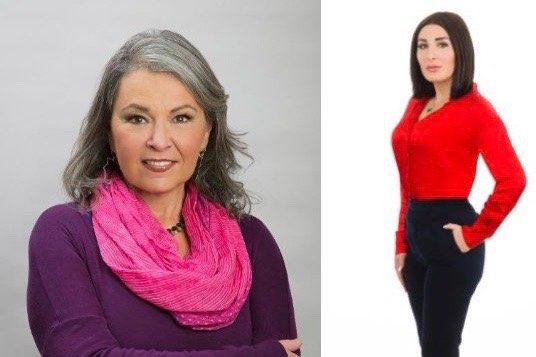 Barr has supported Loomer in all her endeavors, calling her an "inspiration" while Loomer refers to Barr as a "hero, an absolute cultural icon, and a free speech warrior."
In a recent interview published on Roseanne Barr's YouTube channel, Loomer and Barr discussed the anti-Semitism seen with the Muslim Brotherhood, CAIR, and other Jew-hating organizations that is now beginning to effect some of the decisions Big Tech and social media executives make when deciding who is allowed to have an opinion on their platforms, and who is not.
Both Barr and Loomer view the conservative-Jewish voice, and conservative voices in general as top targets social media companies are working tirelessly to silence.
"I'd like to know why they hate us so damn bad," Barr said.
Loomer reminded Barr that the last time she asked Reps. Ilhan Omar and Rashida Tlaib that question she was physically assaulted.
In response, Loomer filed a $2 million lawsuit against Tlaib for alleged battery after "in the presence of Omar, who looked on approvingly, Tlaib violently lunged at Loomer, interacted with her physically and grabbed her phone, which Loomer was using to film the event which took place at a Palestinian restaurant. This put Loomer in alleged fear of immediate severe bodily injury."
The two also discussed free speech violations in the public town square, including the deletion of tweets published by President Donald Trump on Twitter.
Laura Loomer, who has coined herself "the most banned women in America" is currently banned from Twitter, Facebook, Instagram, PayPal, Patreon, Airbnb, Lyft, Uber, Uber Eats, Venmo, GoFundMe, MGM Resorts, and Chase Bank.
Barr also had a message for President Trump:
"Trump, you've got to help Laura Loomer. You've got to help me help Laura Loomer."

-Roseanne Barr
Loomer mentioned Barr coming out to do an event for Trump and the Loomer campaign, to which Barr responded, "I said I would as soon as this horrible coronavirus thing's over. I'm afraid to leave my house. I'm in self-quarantine."
"I am looking forward to hitting the campaign trail with my dear friend and comedic icon Roseanne Barr! As someone who has also been deplatformed, Roseanne knows the importance of protecting the First Amendment, and like myself, she is dedicated to combating anti-Semitism and supports President Trump. Her first visit to Palm Beach, FL where I'm running for Congress will be to hold a fundraiser for my campaign, and it's an absolute honor!"

Loomer told Culttture
Culttture spoke with Loomer who confirmed the candidate has raised over $400,000, outraising the current incumbent Lois Frankel in both cycles. In a recent press release, the Loomer campaign compared the two candidates on the campaign trail:
"During this cycle to date, over 7,000 donations have been received by the campaign from all 50 states with Florida residents being the top contributors. The average contribution was $56 proving widespread support among the voting public. By contrast, Laura Loomer's opponent, Congresswoman Lois Frankel received contributions from only 159 individuals during the 2019 election cycle, with an average gift of $856. Frankel received the majority of her donations from political action committees including Michael Bloomberg's gun control PAC."
Roseanne closed out the interview with Loomer saying, "Thank you for being on my show, and thank you for being who you are – one of the modern day Queen Esther incarnations – as I also believe Ivanka Trump is as well."
Learn more about Laura Loomer's campaign here: lauraloomerforcongress.com and Loomer's telegram channel.