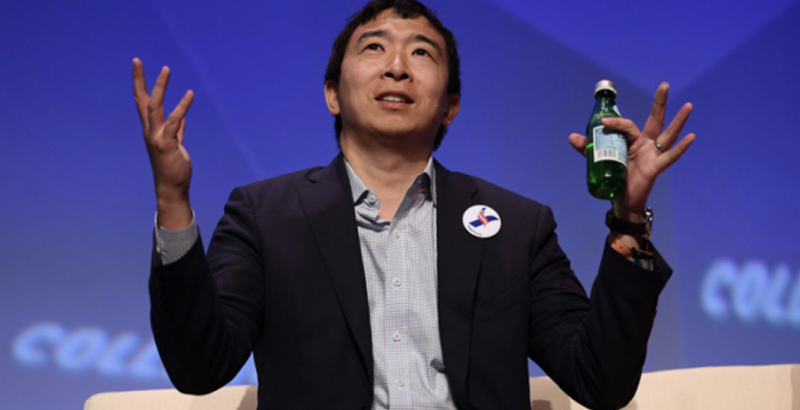 Democratic Presidential Candidate Andrew Yang is running on three main objectives: universal basic income (UBI) of $1,000 per month, medicare for all, and what he describes as "human centered capitalism."
After recent appearances on The Joe Rogan Experience and The Breakfast Club, Yang has drawn the attention he's been after, but it hasn't come without criticism.
While many including philosopher Stefan Molyneux have been quick in their dismissal of Yang's push for UBI and his questionable comments about white gun owners in America, others have welcomed his candidacy.
With a few high profile guest appearances now under his belt, Andrew Yang's name has grown in popularity and in turn, so has the commentary on his worldview. Yang took the opportunity at a recent speaking event to tell the audience about his fear of America's future and what it means for Asian people. See the video clip below:
Political commentator Jack Posobeic had more to say about Yang's "race-based views," after Yang tweeted back in defense of his statements.
Media personality Scott Adams and thought leader Stefan Molyneaux were also quick to question Yang's commentary.
Yang's official website highlights his push for universal basic income, which "guarantees payments of $1,000 per month, or $12,000 per year, to all U.S. citizens over the age of 18."
Molyneaux compared his campaign to "a test of basic math literacy and IQ."
Mike Cernovich tweeted that he was pro-UBI years ago.
Jack Posobiec had previously been curious about Yang's UBI proposal.
Ali Alexander has offered to interview Andrew Yang with no response from the candidate or his team.
Popular YouTuber Paul Joseph Watson argued on Twitter that he actually agrees with a lot of what Yang has to say despite Watson's label of being alt-right.
In a recent periscope, philosopher and trainer Alexander J.A Cortes mentioned that he believes Yang is starting a fresh perspective and welcomes a country-wide discussion on UBI.
Journalist Cassandra Fairbanks was interested in Yang's stance on the dangers of artificial intelligence.

Some have been more frank in their judgments. When asked if he was a part of the "YangGang," a hashtag on social media used by Yang's supporters, rapper and news analyst An0moly responded bluntly, "absolutely not."