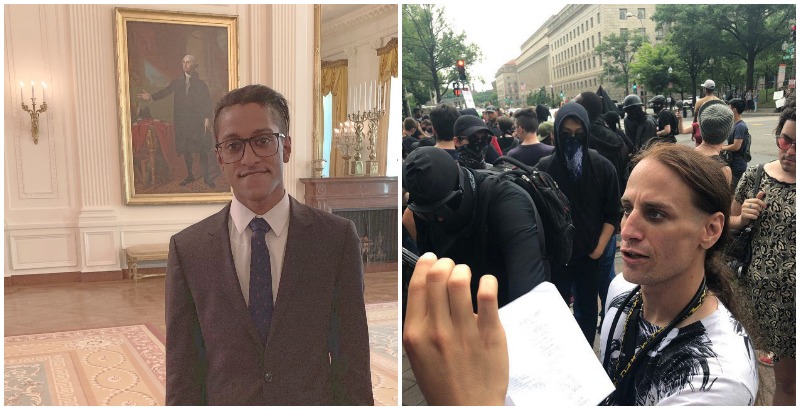 In the middle of the Demand Free Speech rally in Washington, D.C. on Saturday, Ali Alexander called out a man holding an anti-Jewish sign.

Alexander announced, "There are frauds and Feds in our movement who will do nothing but hold these anti-Jew signs, these Nazi signs, not understanding that the Americans beat the German Nazis."
The crowd broke into a "USA" chant, and the neo-Nazi called out by Alexander rushed to attack the speakers on stage.
The Proud Boys together with Alexander's security team removed the neo-Nazi peacefully from the rally. The restraint exhibited by the Proud Boys calls into question the media's widespread reporting of them as violent group.
A photo of the neo-Nazi hanging out with the violent left wing hate group Antifa was discovered after the event, and according to many witnesses the neo-Nazi was known to Antifa and welcome.
The violent threat from the Antifa-friendly neo-Nazi was real, as he was carrying a pole and his actions drew attention from the police force preventing violent Antifa members from storming the event.
"Absent this security force, they would have killed us," said Alexander on Periscope. "And it looks like some journalists are complicit in that."
The Daily Beast's Will Sommer live-tweeted the event, but failed to make any mention of the attack on Alexander, or the Proud Boys kicking him out of the event.
Neo-Nazi Jovi Val, called a "Fed" by members of the rally at the 28 minute mark in the video below, was waiting and strangely immediately ready to aid the Antifa-friendly neo-Nazi as he was being kicked out of the rally.
Alexander is seeking all information on the neo-Nazi attacker, and his connections to Antifa and Occupy Wall Street.

Reporters that covered the rally but failed to cover the removal of the Antifa-friendly neo-Nazi are trying to cover up what is emphasized by this photo - the Proud Boys and Free Speech supporters love people of all backgrounds.