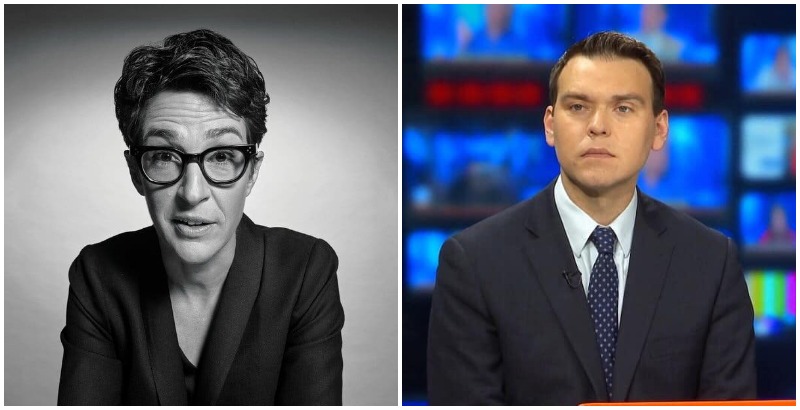 One America News (OAN) is in court against MSNBC's Rachel Maddow in a $10 million lawsuit after Maddow said her conservative competitor "really, literally is paid Russian propaganda."
Now, Maddow is arguing in court that her words should not be taken as fact.
Her actual legal defense, put out in a motion by her lawyer Theodore Boutrous Jr., reads: "…the liberal host was clearly offering up her 'own unique expression' of her views to capture what she saw as the 'ridiculous' nature of the undisputed facts. Her comment, therefore, is a quintessential statement 'of rhetorical hyperbole, incapable of being proved true or false.'"
During one of her MSNBC segments, Maddow claimed, "In this case, the most obsequiously pro-Trump right wing news outlet in America is really literally is paid Russian propaganda," and added, "Their on-air politics reporter (Kristian Rouz) is paid by the Russian government to produce propaganda for that government."
Leaving aside that Maddow now says her words should not be believed as fact, a linguistics professor's testimony is leading observers to believe Maddow is also now lying in court.
UC Santa Barbara linguistics professor Stefan Thomas Gries said, "it is very unlikely that an average or reasonable/ordinary viewer would consider the sentence in question to be a statement of opinion."
Gries added that, "I am the second most widely-cited cognitive linguist and sixth most widely-cited living corpus linguist. The field of cognitive linguistics draws from both linguistics and psychology and studies how language interacts with cognition."
After analyzing Maddow's segment and identifying and analyzing linguistic markers including words, tone, and cadence used by Maddow, Gries found "Maddow did not use any typical opinion-markers when she stated that OAN 'really literally is paid Russian propaganda.'"
OAN host Jack Posobiec tweeted at Maddow after she made her defamatory remarks, writing "Do you understand how defamation laws work? Please feel free to respond to our lawyers."
OAN's lawsuit also named MSNBC, Comcast, and NBC Universal Media as defendants, and accuses Comcast, MSNBC's parent company, of "anti-competitive censorship" because the network refuses to carry OAN as part of its cable package.
To work around corporate media censorship, OAN is now streaming live to paid subscribers on Facebook.