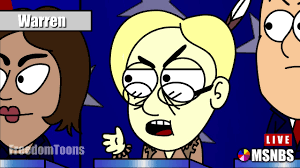 From Tulsi Gabbard getting only 2 seconds to talk, to the only audible words being "racist," "sexist," and "Donald Trump," the cartoon FreedomToons accurately roasted the first 2019 Democrat debates in a new video.
Robert 'Beto' O'Rourke and Cory Booker fighting over who speaks Spanish better was another hilarious moment in the cartoon debate.
Last year, Freedom Toons roasted Dave Rubin, characterizing him as agreeing with whatever his guests say.
Cartoon versions of Stefan Molyneux, Sam Harris, Jordan Peterson don't speak for long at all before cartoon Dave Rubin interrupts them saying, "I a-gree with that."