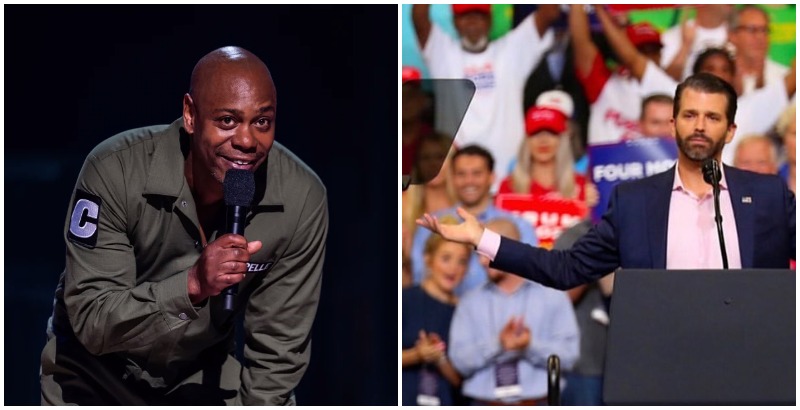 Dave Chappelle's stand up comedy special Sticks and Stones has become the talk of America, and Donald Trump Jr. just threw more gas on the fire.
After Chappelle received angry reviews from Vice and other corporate media outlets for making politically incorrect jokes, Trump Jr. tweeted out a clip from Chappelle's special today.
In the clip, Chappelle talks about how actor Jussie Smollett was "clearly lying" when he claimed two men wearing MAGA hats attacked him.
In another part of Chappelle's special, audience members yelled out "Trump" when trying to guess who Chappelle was making fun of with an impression.
The impression was about the politically correct "cancel culture" mob members in the modern audience.
For having the audacity to express himself in a hilarious fashion, Chappelle earned reviews from corporate media critics like Vice proclaiming, "You Can Definitely Skip Dave Chappelle's New Netflix Special."

On the review website Rotten Tomatoes, the corporate media critics gave Chappelle's special an aggregate score of 17% out of one hundred. The audience rated the special at 99%.
The corporate media is now getting roasted for panning a comedy special universally recognized as one of the funniest of all time, while lauding PC programs that most people do not enjoy.