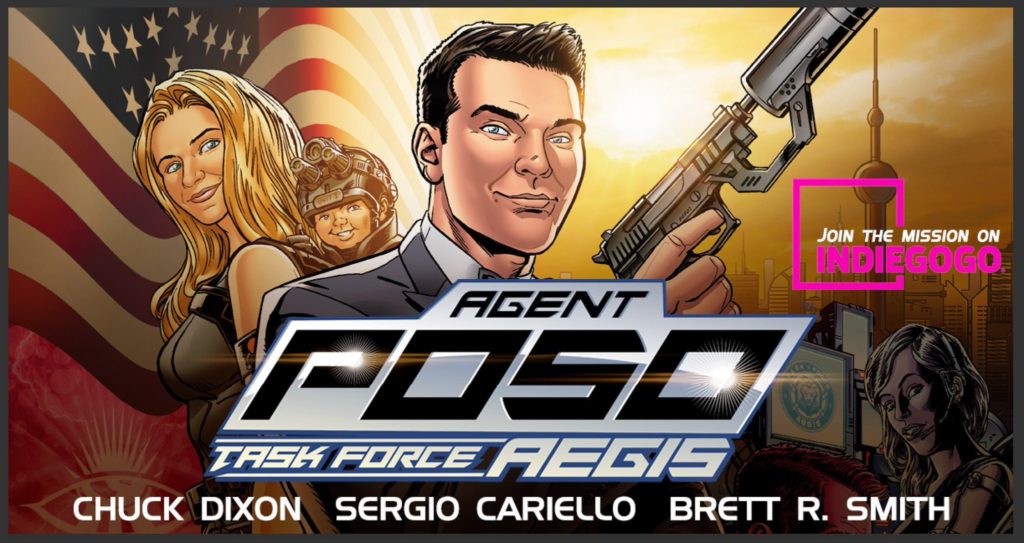 Ready? OANN host and veteran Navy intelligence officer Jack Posobiec has been dropping hints about a possible comic book story he's working on for the last year and the need for platforms and streaming services outside of the Hollywood Netflix world which shuns American values and promotes their own preachy progressive ideology in most of their stories.
Well, it's here and he's asking for crowd participation.
In an exclusive for Culttture, creator Jack Posobiec says he's ready for the launch and hopes readers will participate in the production.
It's not only Posobiec though. He's assembled a mega team of creatives, launching an IndieGoGo campaign for Agent Poso: TASK FORCE AEGIS. The comic book is written by Chuck Dixon, with artists Brett Smith and Sergio Cariello.
On the importance of creating professional, creative alternatives to hostile, corporate productions, Posobiec told us "it's time to take back culture from Hollywood. They don't own us anymore. Americans are sick of their nonsense. This is phase one of the counterstrike against the false theocracy preached by the High Priests of Wokentology. We are making content like Task Force AEGIS that is fun, action-packed and has a pro-America 80s vibe to it. That's what the people told us they want and we decided to listen. Plus, the creative team is using real world information in it in an all-new way. These are stories ripped from tomorrow's headlines."
As co-creator Posobiec said he agrees with creator Brett Smith, who is serving as the creative director for the project, that in order to fight the culture war you have to create culture.
"Jack and I agree. It's not about white papers and op-eds. You can't fight a culture war unless you are creating culture and that's why this team came together to do a comic about Agent Poso and fight back against an entertainment industry taken over by the left in the last 30 years"
Chuck Dixon, writer for this project, noted that this isn't political content.
"Coming together with Jack on this adventure was irresistible. We're gonna do some comics for the rest of us. He understands that the right needs to utilize the power of pop culture. This isn't political content. It's an espionage, war on terror thriller with action, violence, beautiful women, and bad guys. Fighting globalists and eco-terrorists today is the same as when James Bond fought communists in the Cold War. I can't wait for people to see what we've made."
The sneak peak video was created by the president's favorite memester Carpe Donktum. It looks impressive and Culttture looks forward to reviewing the comic book after its full release.