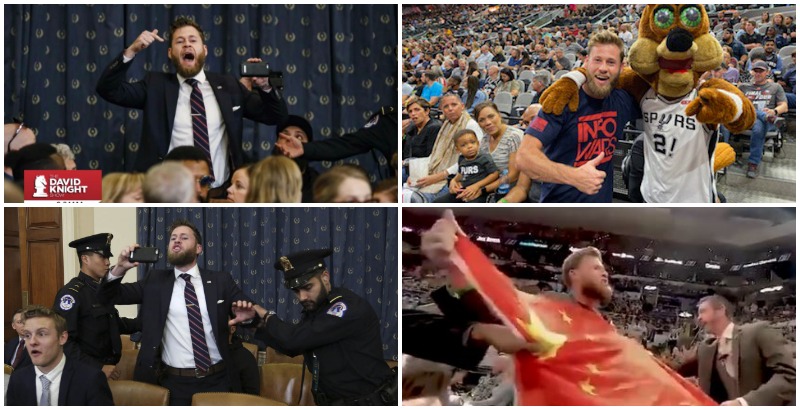 Infowars host Owen Shroyer spoke out at the start of the House Judiciary Committee's impeachment inquiry against President Trump today.
"Jerry Nadler and the Democrat Party are committing treason against this country!" Shroyer shouted out. "America's done with this!"
Shroyer was arrested and taken to jail for protesting the impeachment hearing.
Shroyer made a statement live on Periscope after being released. The NY Times has since tweeted about Shroyer's Periscope account in a statement many have interpreted as a call for him to be banned from social media.
On his show The War Room, Shroyer has suggested that President Trump hold a massive all-day event at a stadium to show his popularity and counter the impeachment proceedings.
Shroyer has also previously called for Democrat Adam Schiff to be jailed.
Shroyer has made numerous public stands against tyranny in recent months.
In October, Shroyer attended an NBA game after a man and his wife were kicked out of an NBA game against a Chinese basketball team for yelling "Free Hong Kong." NBA star LeBron James had also come out with a statement defending China.
Shroyer went to a San Antonio Spurs game and held up a sign and later a Chinese flag that read "China Owns The NBA." He was escorted out of the arena, after asking "I'd like to know how the NBA players feel about being censored by the Chinese government."
In September, Shroyer attended an Austin City Council on homelessness after the council repealing a camping ban, allowing homeless people to camp on public property citywide.
Austin Mayor Steve Adler had tried to sell the ban by saying, "I hope this city does not satisfy itself by just moving people around."
Regarding Adler, Shroyer told Culttture, "He and the city council are to blame for the mess and the fact he blames cops shows his integrity is even lower than I thought. Austin will be just like Los Angeles or San Francisco at this rate within a year unless drastic changes in leadership or policy are made."
At the meeting, Shroyer stood up as members of the council defended their actions, saying "Meetings like these are pathetic!" and "Nothing is going to change with meetings and leaders like this!"
"People in the city of Austin are fed up," Shroyer told Culttture. "Nobody likes this. It's really odd how there's literally zero public support…and yet there's just no action on behalf of the City Council and the mayor. This mayor is a total failure, but he's gonna be the one that'll be remembered as the mayor that destroyed Austin, Texas and turned Austin, Texas into California, Texas."
Shroyer has previously called out the former California Governor Jerry Brown for trying to blame California wildfires on climate change, saying that Democrat governors like Brown, "created this environment for the fires to break out…They aren't even allowed to chop down trees next to the power lines."