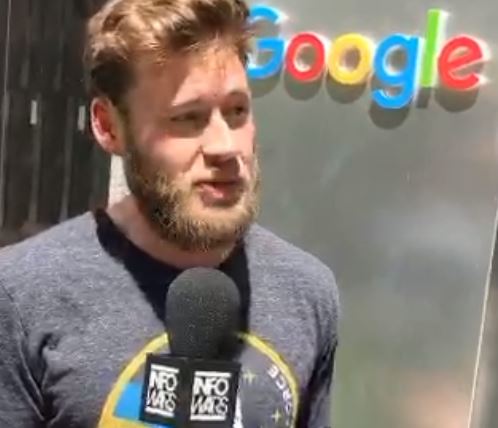 Google security tried to have police remove Infowars reporter Owen Shroyer from public property outside their facility in Austin, Texas.
Shroyer, the host of The War Room, was recording a news segment using the Google logo as a backdrop when he was accosted by Google's security officer. Knowing the law that recording and photography is not a crime in public, Shroyer refused to leave.
Shroyer then went live on Periscope explaining what had happened, and explaining his original intent - to report on YouTube censoring Infowars.
"All I wanted to do was shoot a 5 minute, HD report talking about how the CEO of YouTube said that YouTube was going to be an open platform. They were going to let people upload videos again," said Shroyer. "I'm halfway through the report when the security guard comes and tries to kick me off the property.
YouTube CEO Susan Wojcicki had stated that "People should upload whatever they want" in this Vox article.
After Youtube's CEO statement that, "the platform is OK with content that is offensive, outside the mainstream and controversial," Infowars created a new channel on Youtube. The channel lasted 17 hours before Infowars was shutdown by the Big Tech monopoly.