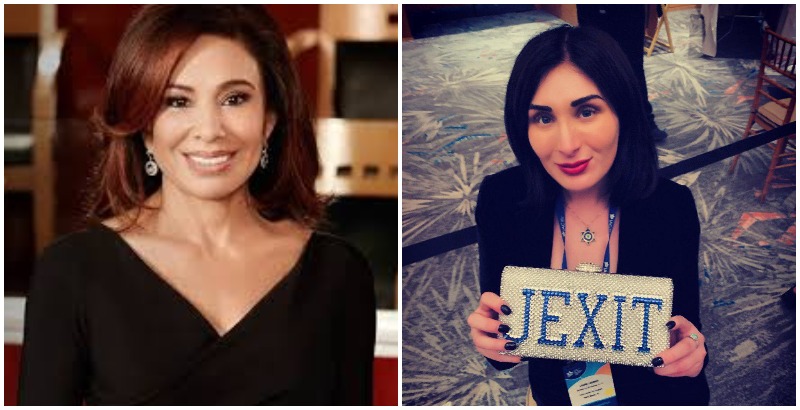 Judge Jeanine Pirro endorsed Laura Loomer for Congress at her book signing on December 10.
Pirro, the host of Justice with Judge Jeanine on Fox News, and author of Radicals, Resistance, and Revenge, endorsed Loomer at two of her private book signings in Boca Raton, Florida and West Palm Beach, where she told audience members, "You must do everything you can to elect Laura Loomer for Congress in Florida. She is the most bright, quick witted candidate I have ever met. She must win. She's the only one who can take on the squad."
Loomer told Culttture she was honored to have Pirro's support.
"I'm honored to have the support of one of my heroes and close friends, Judge Jeanine Pirro," said Loomer. "Judge Jeanine is the embodiment of a strong conservative woman, and she is an important voice in America who constantly stands guard Against those who seek to undermine and destroy our constitutional values and the rule of law."
Loomer added that, "Her new book Radicals, Resistance, and Revenge, which I'm honored to be mentioned in, is a must read during these troubling times for our nation."
Pirro wrote about Loomer's congressional campaign and her bans from social media. Pirro told the audience that Loomer is "the only candidate who can win in District 21."
Loomer is running for Congress as a Republican in Florida's 21st Congressional District against Lois Frankel, a radical Democrat incumbent.
Loomer will become President Trump's Congresswoman by winning her race. Last month, President Trump and First Lady Melania Trump became residents of District 21, home to Mar-a-Lago. Pirro is close friends with President Trump.
Despite being banned from Twitter, Instagram, and Facebook, Loomer has garnered the respect of many fans, now including best-selling author Judge Jeanine Pirro. Loomer's official fan club recently turned a year old.
Loomer is running against Democrat Lois Frankel. Karen Giorno, Loomer's campaign strategist says, "With Laura Loomer now in the FL CD-21 race, the Republican Party's odds of flipping a blue district increases exponentially."
Loomer has raised over $150,000 and is still accepting donations for her campaign.