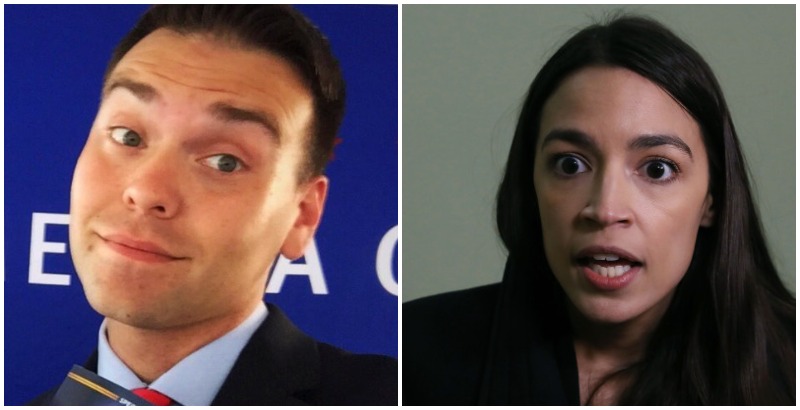 After failing to understand a meme, Alexandria Ocasio-Cortez falsely accused Jack Posobiec of stalking her.
Opponents of Ocasio-Cortez were sharing a photo of her taken at a restaurant, and Posobiec posted a meme making fun of the amateur spying.

Ocasio-Cortez failed to understand the joke and said Posobiec was "stalkerish."
Posobiec helped the struggling congresswoman and let her in on the joke - that he was making fun of whoever took the picture.
After being let in on the joke, Ocasio-Cortez still fell hard on her face, and Posobiec explained a second meme Ocasio-Cortez failed to understand.
Ocasio-Cortez has been getting made fun of recently for saying "Maybe we shouldn't be eating a hamburger for breakfast, lunch, and dinner. Like, let's keep it real." Posobiec zoomed in on the photo going viral of Ocasio-Cortez at dinner - apparently with a hamburger on the table.
With Ocasio-Cortez continuing to complain that Posobiec made jokes she didn't understand, Posobiec roasted her on a livestream.
Mike Cernovich also went in hard on Ocasio-Cortez, reporting that her former roommate "sent his followers to send my newborn daughter death threats" and "stalks my wife."
The internet enjoyed seeing Ocasio-Cortez fail miserably at taking shots at Posobiec.
Ocasio-Cortez was also roasted and compared to a child recently for saying she's the boss of her failed legislation. Culttture recently covered how Ocasio-Cortez's boyfriend was paid by a PAC founded by her chief of staff.
In addition to handing losses to Ocasio-Cortez, 4D Warfare author Posobiec recently memed the word magaphobia into existence to describe anti-Trump hate crimes.